The 'Superbass' singer may be leaving the music scene earlier than expected
Female rap legend Nicki Minaj shook unsuspecting fans to their core when she announced via Twitter on Thursday night that she plans to retire to focus on her personal life. The original Tweet has since been removed from her page, but her follow up message still remains for followers.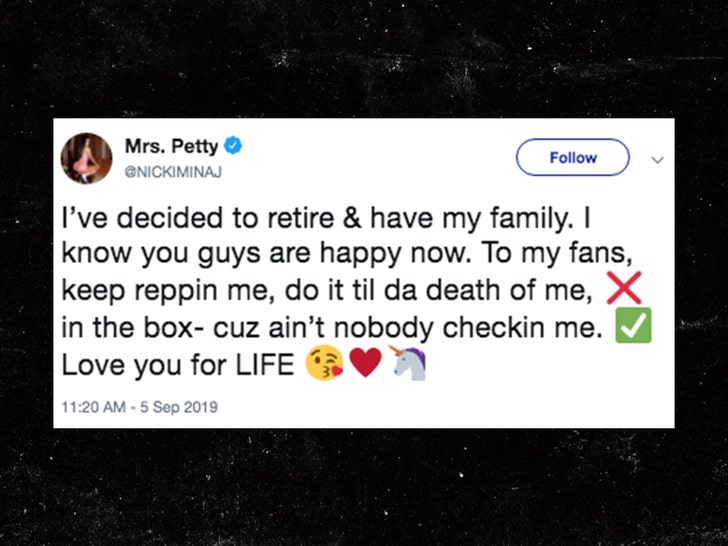 Minaj remains one of the most celebrated female rappers to ever take over mainstream radio. Her impressive career began in the early 2000's by dropping mixtapes and thus gaining the attention of Lil Wayne's Young Money Entertainment record label, where she was not only able to collaborate on projects with Drake, Wayne, and Tyga, but gained national recognition and obsession for her solo on 'Bedrock'.
Her debut album Pink Friday was released in 2010 and sold two million copies, remaining on the US Billboard 200 chart for 39 weeks. The Pinkprint, Minaj's third studio album, brought the infamous 'Feeling Myself', 'Anaconda', 'Truffle Butter', and 'Only' and was nominated for Best Rap Album in 2016. Along with her own tracks, she has appeared on chart-topping hits with Ludacris, Usher, Kanye West, Justin Bieber, Beyoncé, and Ariana Grande.
Her dedication and innovated lyrics and sounds have brought her 10 Grammy nominations and five MTV VMA's. She has appeared in films, assisted in the production of other stars albums, started her own radio station, and has worked with some of the biggest names in the entertainment industry.
So with all the success, why the sudden quit? Some speculate her breaking point came with the lack of enthusiasm surrounding her fourth album Queen that was released at the same time as Travis Scott's Astroworld, which gained major media attention. Others hope she will follow in the path of other pre-mature retired artists that have since produced more music, like Jay-Z.
Regardless of the motivation behind the break, Minaj has announced she will give fans all the details on her resignation in an episode on Queen Radio soon. Wherever this time takes her, she has assured fans she is still "right here".