A new drinking phenomenon is taking over the internet.
Remember the Tide Pod hysterics from last year? One of the stranger internet trends to have ever taken over is being revisited in a new, adult-approved way. The Glenlivet, the second best-selling scotch in the world, has put a new twist on the 500-year-old beverage. Instead of drinking a glass of their smooth scotch, connoisseurs can now consume the scotch in gel pods.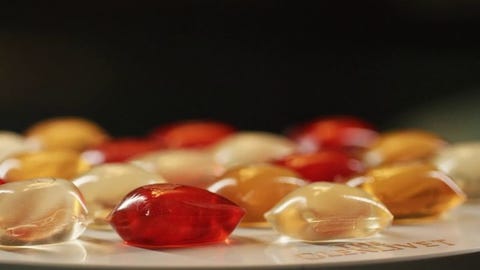 The outer casing is made from seaweed, so it can be fully digested and consumed. Users can eat them like Gushers or swallow them whole like a pill for a quick punch of scotch to your gut. Speyside distillery calls it the "Capsule Collection" and it is available as a signature part of London Cocktail Week. For now, the only way to consume the boozy pouches is to visit the Tayer bar in London, where the capsules are being served until October 13. The company has not announced if the items will be available to purchase in stores or not, as they are not yet approved for consumption in the US. But I think I speak for everyone in saying we hope to see this on menus and in liquor stores very soon. The capsules are available in three signature flavors: citrus, wood, and spice, so any and all scotch drinkers can find their perfect pod.